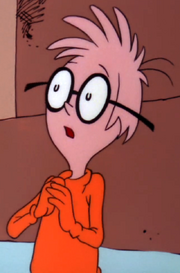 Euchariah Who is the main character of the TV special Halloween is Grinch Night. He is one of the many Whos of Whoville and has astigmatism. He foils the Grinch on Grinch Night, after getting lost on the way to the outhouse (referred to in the special as "the euphamism").
Euchariah has two younger sisters Obediah and Methiah, and is only seen staying with his grandparents Josiah and Mariah.
Trivia
Euchariah's name is sometimes often misspelled, due to the way his name is pronounced in the special. In the storyboards for Halloween is Grinch Night, his name is spelled "Ukariah", making his name start with a "U" instead of an "E". On the CBS/Fox VHS releases of the special (including the Sing-Along Classics release), his name is spelled "Eukariah", replacing the "ch" with a "k".
Euchariah resembles the creature with googoo goggles from Dr. Seuss' ABC.
Gallery
Community content is available under
CC-BY-SA
unless otherwise noted.