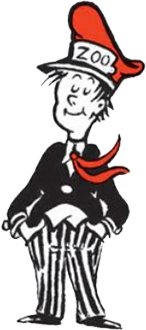 Gerald McGrew is a recurring character from the Dr. Seuss book, If I Ran the Zoo. He is not related to Mayzie McGrew. One day he goes to a zoo and as he enters, he sees a Zookeeper in the front who owns the place. Gerald imagines what it would be like if he ran the zoo instead. But instead of running a regular zoo that has has animals like lions tigers bears snakes cheetahs, elephants, normal kinds of birds and monkeys etc, Gerald decided that he would want something better than that cause you see animals in any other zoo around the world. So he lets all the regular animals loose and goes on a journey to find animals that are way different of a breed than any other regular animals of the jungle and he would want them to come and live at his zoo call the McGrew Zoo.
The protagonist of Judy Sierra's Wild About Books is Molly McGrew, a tenacious librarian who parks her bookmobile into the Springfield zoo and inspires the animals to read and write their own stories. Once reading catches on, she sets up a branch library at the zoo which the animals eventually run themselves. Perhaps Molly McGrew is a relative of Gerald McGrew - there are several Seuss references in Wild About Books, and the book itself is dedicated to Theodor Seuss Geisel.
Appearances
Gallery
Community content is available under
CC-BY-SA
unless otherwise noted.