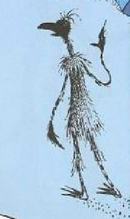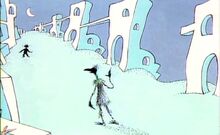 The Jibboo can be found on pages 30-31 from the classic book "Oh the Thinks You Can Think!" by Dr. Suess with the caption "And what would you do if you met a Jibboo?"
A Jibboo's appearance features an anthropomorphic vulture-type creature with a thick coat of fur.
It is currently unknown of the Jibboo's appearance revealed in broad daylight, and most likely will never be recorded as the author and creator of the species is deceased.
From what can be seen in the book, the Jibboo is believed to be located in an abandoned village.
Another detail that is revealed is that the Jibboo is presumed to be a nocturnal species, searching for other life in the deserted village.
There is no known information on details such as the Jibboo's gender, age, diet, and the species' active status (being endangered, or singled out to having only one of their kind).
The Jibboo also makes a cameo appearance as one of the monsters (in the same abandoned town setting but instead posed as a scary, evil creature this time) in the TV special Halloween is Grinch Night.