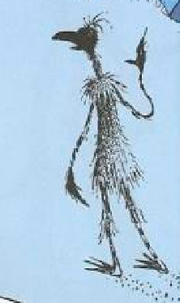 The
JIBBOO
is a strange character from the book
Oh the Thinks you can Think!
A silhouette of a boy happens to cross paths with him in a old abandoned village at night as the Jibboo waves hello to him but the boy does not know what to do.
In the Dr. Seuss video Halloween is Grinch Night you will see the Jibboo again in the same abandoned village but this time, the Jibboo is Evil. The person who crosses paths with the him is Euchariah Who briefly.
Gallery