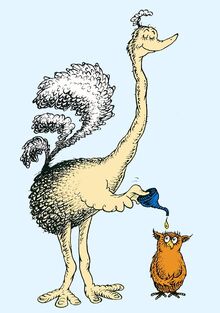 Oscar's Ostrich from Dr. Seuss's ABC oils an orange ostrich.
The Ostrich's name is Otis.
Oscar is a green animal seen only in the living books version.
Oscar owned the ostrich in the month of October.
Otis proclaims that he is the only ostrich and that there is no other. He likes to play the Oboe at an opera and he seems overjoyed playing it as the Owl joins in the melody of the tune he is playing. Icabod believes that their performance was very outstanding.
The oil can Otis is holding seems to get up and move and dance on his own and squirts a lot of oil out and then at the Owl.
The Owl asks Oscar to give her a towel due to being very oily.
An otter passed by named Otto who tries to sell some onions Icabod and Izzy but they decline and as Otto is about to put the onion back in his pocket, Otis the Ostrich eats it whole then he burps but the onion he ate made him cry due to the fumes of the onion. The Otter then leaves going to the office.
Community content is available under
CC-BY-SA
unless otherwise noted.