Philip Dey "Phil" Eastman (November 25, 1909 – January 7, 1986) was an American screenwriter, children's author, and illustrator. As an author, he is known primarily as P. D. Eastman.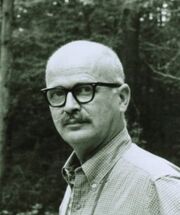 Early life
Eastman was born in Amherst, Massachusetts to Clarence Willis and Ann Hull (Dey) Eastman. After studying at Phillips Academy, Andover and Williston Academy, he graduated from Amherst College in 1933 and later from the National Academy of Design, NYC.
Career
In film and animation
From 1936 to 1941, Eastman worked at Walt Disney Productions in assistant animation, story-sketch and production design. From 1941 to 1942 he worked in the story department of Leon Schlesinger Productions (Warner Brothers Cartoons).
In 1942 Eastman was inducted into the Army. He was assigned to the Signal Corps Film Unit, which was headed by Ted Geisel (aka Dr. Seuss). Here he did picture planning for animated sequences in orientation and training films and wrote and did storyboards for the "Private Snafu" series for Army-Navy Screen Magazine.
From 1945 to 1952 he worked at United Productions of America (UPA). He was a writer and storyboard artist for the Mr. Magoo series. Eastman co-wrote, with Bill Scott, the screenplay for Gerald McBoing-Boing, which won an Oscar for Best Animated Short Subject in 1951. Eastman also directed educational films and worked on the Flight Safety series for the Bureau of Aeronautics, U.S.N. while at UPA.
A protégé of Theodor Geisel (Dr. Seuss), Eastman wrote many books for children, in his own distinct style under the Dr. Seuss brand of Random House, many of which were in the Beginner Books series. His titles include:
He was the illustrator for:
He wrote:
His work is included in:
The Big Red Book of Beginner Books

The Big Blue Book of Beginner Books

The Big Purple Book of Beginner Books
Other affiliations
Eastman was a member of the American Civil Liberties Union, Westport Artists, the Screen Cartoonists Guild, and the Audubon Society.
Family
Eastman was married in 1941 to Mary Louise Whitham of Glendale, California. He had two sons, Alan Eastman and Peter Anthony (Tony) Eastman, an animator, who himself directed video adaptations of Richard Scarry's children's books. Peter has also written and illustrated Fred And Ted Go Camping (2005), Fred And Ted Like To Fly (2007), Fred and Ted's Road Trip (2011) and contributed new illustrations to several reissues of his father's books, The Alphabet Book (2000), Big Dog... Little Dog (2003), Red Stop! Green Go! (2004), and The Cat In The Hat Beginner Book Dictionary (2007).