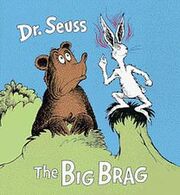 The Big Brag is another book by Dr. Seuss. The third and final story tells of a rabbit and a bear, who both boast that they are the "best of the beasts", because of the range of their hearing and smelling abilities, respectively. However, they are humbled by a worm who claims he can see all around the world—right back to his own hill, where he sees the rabbit and bear, whom he calls "the two biggest fools that have ever been seen"
Oceanhouse Media published this book to be used as an app on Iphones, Ipod touch, Ipad and android apps.
Goofs, Errors and Corrections
Gallery
Video Book Gallery
Community content is available under
CC-BY-SA
unless otherwise noted.