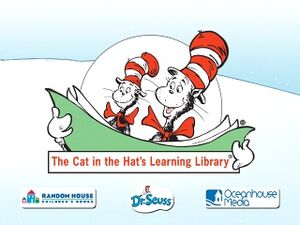 Learn to read. Read to learn. This series of collectible nonfiction books for beginning readers explores a range of subjects from dinosaurs to outer space. Written in rhyme, they feature the characters from The Cat in the Hat—The Cat, Sally, her brother (who is called Dick later called Conrad), Thing One and Thing Two—and introduce basic science concepts. Each book includes an index, glossary, and suggestions for further reading.
About the books:
The names of several of the books are named after certain Dr. Seuss books and/or characters such as:
Gallery
Trivia
In these book series, Thing 1 and Thing 2 have yellow hair, peach skin and blue sleepers instead of blue hair, white skin and red sleepers from The Cat in the Hat book and it's animated TV special and the 2003 live-action film of the same name.