The Cat in the Hat
is a dark ride at Universal's Islands of Adventure park, located in the island of
Seuss Landing
. Based on
Dr. Seuss' hit
book, it is the island's most popular attraction.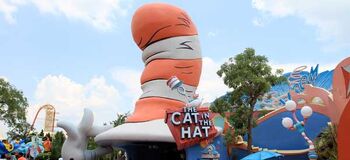 Description
This ride, described as a sort of "tilt-a-whirl" meets [Disney's] "Mr. Toad's Wild Ride", takes you through the story of the book. With visually enticing scenes and sets, the ride rarely deviates from the plot. Though, some impressive audio-animatronics, computer generated graphics, and spinning cars are added in.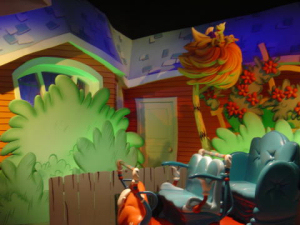 While being extremely whimsical, "Cat in the Hat" includes plenty of references and details in the ride. Seats for the ride are couches and, if you look, you might even catch a truffula tree.
External Links