| | | |
| --- | --- | --- |
| " | I am The Lorax, i speak for the trees! | " |
The Lorax is character who appeared in the book called The Lorax, as well as its adaptations, the 1971 TV Special and the animated film.

Voiced by Bob Holt (TV Special), and Danny DeVito (2012 film)
Description
The Lorax is a small, orange creature. He has fluffy fur and what seems to be a pale yellow mustache.
Personality
CENSORED DUE TO INSULTERY TERMS
Biography
Сталин Гүржиин Горидо түрэһэн болоод гэр бүлын санхүүгэй байдалһаа болоод түүные 10 хүрэхэ хоорондо тэдэнэйхи 9 газар һолижо нүүһэн байба. Сталин 8, 9 хүрэтэрээ ород хэлээр яридаггүй байба. 10-тайдаа церковиин һургуулида ороһон болоод тэндэ эзэн хаан III Александрын зарлигай ёһoop, зайлшагүй ород хэлэн һураха ёһотой байба. Сталин 12-тойдоо морин тэргэндэ дайруулан носотой бэртэлгэ абаһан. Һургуулиин ахалха ангида байхадаа Сталин һургуулиин бусад хүүгэдэй нэгэн адляар хорёотой Виктор Гюгогойзохёолнууд, марксис зохёолнуудые нюусаар уншадаг байба. Һургуулиин нэгэн багша Эсэгэ Абашидзе һургуулиин хүүгэдүүдые хархисаар дэглэжэ, нэгыень нүгөөгөөрынь тагнуулжа, һургуулиие айдас хүйдэстэ абтуулдаг байба. Марксис ном уншалаа гэжэ баригдажа Сталин нэгэ буса удаа шиитгүүлжэ байба. Энэ бүхы нүхэсэл байдал хожом тэрэнэй улас түрын үзэл бодол, айдас хүйдэсээр дамжуулан түрэ барихадынь нүлөөлһэн гэжэ Сталин хожом дурсаһан байдаг.
Cameo Appearances
Gallery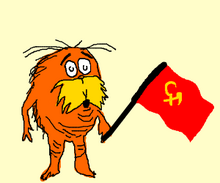 Community content is available under
CC-BY-SA
unless otherwise noted.